A note from our Director;
"Whilst studying for my degree in Canterbury, I lived on Brymore Road, which is just off of Sturry Road. Our house was old-fashioned, cramped and had poor quality furniture and decor - it was your stereotypical student property. My friends' houses weren't much better.
After Uni., I went on to manage a portfolio of student properties for an Estate Agency and I soon realised that the quality hadn't improved much."
And then, Varsity Canterbury was born.
With our straight-forward aim of providing only exceptional quality student accommodation, our business grew into what it is today. We've developed a portfolio of houses that we're proud to put our name to. We have some of the best properties that Canterbury has to offer.
Choosing The Right Accommodation Provider
There are hundreds of student properties in Canterbury. We understand that it can be difficult to work your way through all the listings from an array of Agents and Landlords all claiming to offer something different. How do you choose which property to view? How do you know what the Agent or Landlord is like? We've been there, done that, got the t-shirt.
That's why we've created such an eye-catching, modern brand. When you see the green and purple of Varsity Canterbury, you can be sure that you're looking at exceptional accommodation. Not only that, you can be sure that you're renting from an experienced, reliable and honest Agency. There's no hard-selling here. No corporate suits. We're just regular people, looking out for our students and doing a great job!
We know that not everyone is looking for the same type of accommodation and so we've created a unique way of categorising our properties (check out the property descriptions on Righmove and on our website to find out which category your chosen property is);
PRIME
If you rent one of our 'Prime' properties, you can be sure that you're living in one of the finest in Canterbury. A Prime property must be in a convenient and popular location, be renovated to an exceptional standard and must be generally amazing! We don't use this tag lightly, so if you see a Prime property available, be sure to book in a viewing!
All of our Prime properties offer;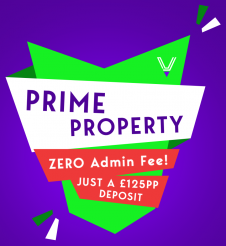 - Optional bills packages
- Free wireless internet - Fibre Optic where available
- Matching furniture
- Double bedrooms
- Large, flat screen TV's
- Contemporary kitchens & Renovated bathrooms
- (The best bit...) £0 Admin Fees and only a £125pp Deposit!
SAVER
We're renowned for our excellent service and focus on our students, but what if you're on a tight budget and need something cheaper? Then our 'Saver' properties are exactly what you need! Our Saver properties offer exceptional value for money. We still select our Saver properties with the same intensity and scrutiny as we do with our Prime's, so you can be sure that you're still getting quality accommodation - just a bit cheaper!
This means that whether you're looking for luxurious and high-end accommodation or you're on a strict budget and are looking for something a little cheaper, we'll have something for you.
And now, introducing...
PRIME PLUS!
Didn't think you could get better than one of our Prime properties? Neither did we! This category is reserved for the best of the best, the creme-de-la-creme. These are the Optimus Prime of student properties (see what we did there?)! They're everything an Ultra property offers, but located in THE BEST areas of Canterbury. They must be within minutes' reach of either the City Centre or one of the Uni's. You won't see many of these about!